On May 2-3, 2023, VFN will host its 2nd annual conference at The Hotel Roanoke and Conference Center in beautiful Roanoke, Virginia. We anticipate more than 200 philanthropic leaders in attendance for two inspiring days of in-person learning, networking, and community-building. Focused specifically on the philanthropic community's unique role in helping the Commonwealth capitalize on opportunities, address needs, and overcome challenges, you won't want to miss this one-of-a-kind gathering!
Who is expected to attend?
In 2022, more than 170 philanthropy executives, trustees, and staff members representing 91 organizations attended VFN's inaugural Stronger Together: Advancing Opportunities for All Virginians, making it the largest-ever gathering of Virginia's philanthropic community. Of those in attendance, 50% were staff members, 25% CEOs, 12% Trustees, and 13% were Program Officers.
This year, we anticipate more than 200 attendees representing 100+ philanthropic organizations to join us  –  once again making VFN's conference the largest-ever gathering of Virginia's philanthropic community! 
"It was inspiring to be in the presence of so many Virginians from all across the state and to have the opportunity to share and learn as we work towards making the Commonwealth a better place for all. I am already looking forward to next year's conference!"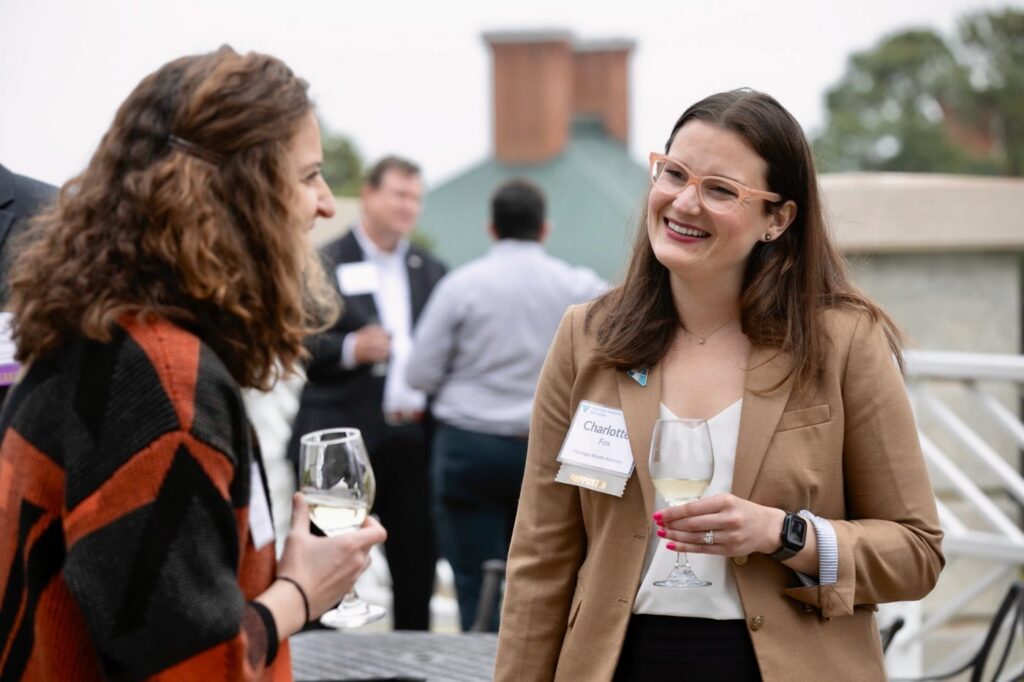 Q: Can my spouse attend?
A: Yes and no. The conference is specifically tailored for funders and their staff and leadership. However, your spouse can join us for the cocktail reception and dinner plenary on the evening of May 2nd for a nominal fee. In addition, our pre-conference walking tour is also open to your spouse. 
Q: Who attends the Virginia Funders Network's Annual Conference?
A: The trustees, executive leadership, and staff members of more than 100 foundations and other grantmaking organizations across Virginia attend our conference each year. As a conference supporter, you'll have the opportunity to connect with the Commonwealth's top philanthropy leaders, build relationships, and explore opportunities for partnership.
Q: Is there a cancellation deadline & fee?
A: Full refunds will be provided for cancellations made at least 30 days in advance of the conference. Cancellations made at least 14 days in advance of the conference qualify for a 50% refund. No refunds will be offered for cancellations made within the 2 weeks leading up to the conference.
2023 Conference Planning Committee
Each year, the Annual Conference Planning Committee, comprised of VFN Advisory Board members, members, and event sponsors, is responsible for planning and hosting this valuable and inspiring gathering.
Erin Hogan
Bank of America
Scott Blackwell
The Community Foundation
for a greater Richmond
Kelly Chopus
Community Collaborations
Carolyn Champion
Dominion Energy
Mary Fant Donnan
The Alleghany Foundation
Eileen Ellsworth
Community Foundation
for Northern Virginia
Holly Hatcher
Genan Foundation
Denny Huff
Bedford Community Health 
Foundation
Edward Jones
Weissberg Foundation
Courtney Rice
Richmond Memorial Health
Foundation
Robert Simmons
Micron Foundation
Jessica Wirgau
Community Foundation of the  
New River Valley
Thanks to our 2023 sponsors!
Highlights from Last Year's Conference