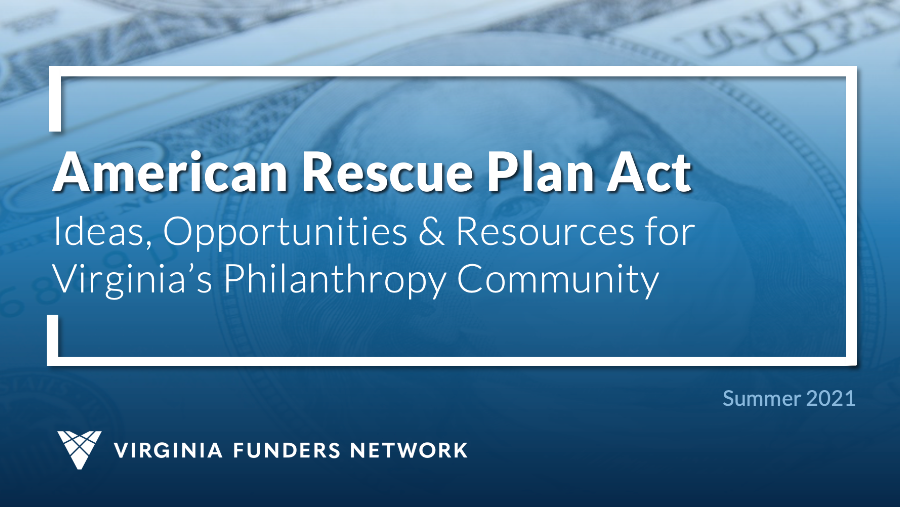 The American Rescue Plan Act (ARPA) was signed into law on March 11, 2021, enacting one of the largest economic relief programs in U.S. history. Of the bill's $1.9 trillion, nearly $7 billion is designated for Virginia.
The ARPA's investment in the Commonwealth has the potential to reduce pandemic-related hardships experienced by many Virginians and begin to set the stage for a strong recovery that benefits all of our state's communities and residents. At the Virginia Funders Network, we believe that philanthropy has an opportunity to work in partnership with local and state government officials as they begin to make allocation decisions to ensure strategic allocation of these public dollars to help Virginians thrive in a post-pandemic world.
In response to the ARPA, we released a toolkit and resource guide designed to help funders across Virginia engage in the strategic allocation, distribution, and use of ARPA funds in their local communities. Our guide is split into three parts: the opportunity, the role for funders, and resources.
In 'Part One: The Opportunity', we discuss what the passing of ARPA means for states and local governments and how to incorporate an equitable recovery into use of the available funds.
In 'Part Two: The Role for Funders', we give tips to help Virginia funders get involved in conversations about the allocation, distribution, and use of ARPA funds in their communities. We believe every funder can play an important role and no step is too small in helping local communities through this journey.
In 'Part Three: Resources', we offer additional resources focused on topics like community engagement, equity, housing, poverty and economic opportunity, and more. We also include sample invitations to community meetings and a model resolution.
Check out our full toolkit and resource guide for the American Rescue Plan Act. Also, sign up to receive our newsletter and find out when our latest reports and guides are being released.