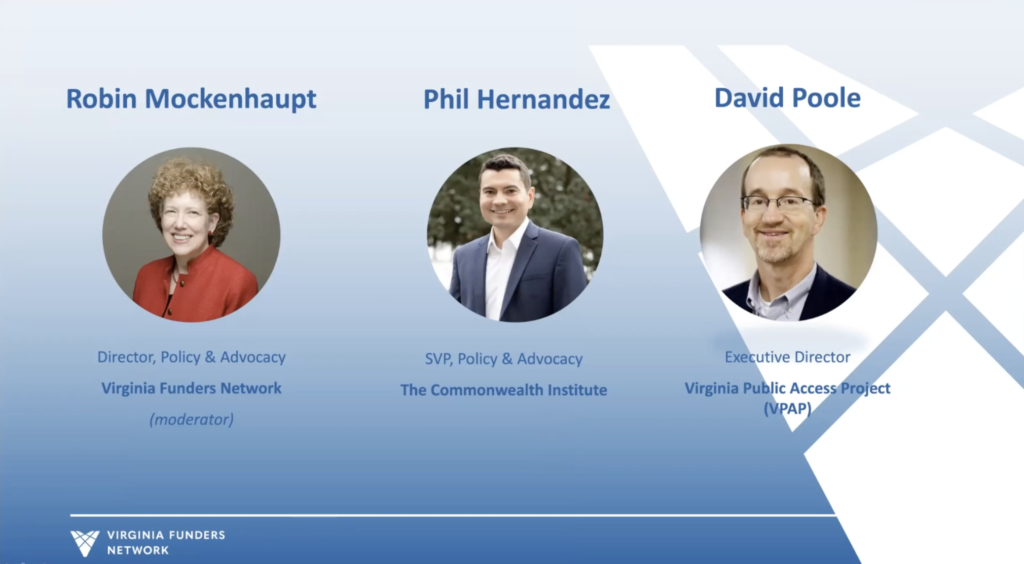 The week of January 9, 2022 is an important time in Virginia politics. On January 12, the General Assembly, with its new Republican majority, convenes for a long, two-month session and, on January 15, Virginia will inaugurate its 74th Governor, Glenn Youngkin. 
To help Virginia's philanthropic community understand and prepare for these political changes, the Virginia Funders Network (VFN) hosted its second annual Pre-General Assembly Legislative Briefing featuring two expert panelists: David Poole, Executive Director of the Virginia Public Access Project (VPAP) and Phil Hernandez, Senior Vice President for Policy and Advocacy with The Commonwealth Institute.
David discussed how high turnout of rural voters impacted and a red wave in every locality except one will impact the upcoming General Assembly session. The House of Delegates flipped from +5 Democratic control to +2 Republican control. With the next State Senate elections in 2023, Senate Democrats will continue to have a +1 majority, but have lost the tiebreaking vote with the new presiding officer, Republican Lt. Gov.-elect Winsome Sears. House Committee chairs have also dramatically shifted; prior to the election, 9 Democratic chairs were from Northern Virginia (a traditionally progressive region) and now all GOP chairs will be from downstate, many of them rural areas.
Phil discussed some of the overarching themes that may play out in the General Assembly as it convenes during the second year of the ongoing COVID pandemic. Gov. Northam's last proposed budget includes more fiscal resources than originally anticipated due to Virginia's strong recovery from the pandemic and available federal resources. Monies have been proposed for strengthening education (e.g., paying teachers more), health care (e.g., health coverage options), and tax reforms. Key defensive work is needed to protect some of the progressive legislative gains made in the past several years, including protecting Virginia's minimum wage law. Key proactive work by TCI may include state funded health coverage options for kids regardless of immigration status, and expanding the earned-income tax credit (EITC).
Redistricting has added a confusing dimension to the political process this year. While the Virginia Supreme Court acted quickly to approve redrawn legislative maps, it is not clear yet how redistricting will affect policy decisions by individual legislators and parties. The implications of the pandemic on the session are also unclear; the expectation is that the 2022 General Assembly session will be fully in person with fewer opportunities for remote participation.
A lot of policy happens at state and local levels, so the role of citizens and advocates to be informed and engaged is as important as ever, especially during this year of change in Virginia. Funders can support policy and advocacy organizations at all levels and support storytelling and local journalism. For a comprehensive list of advocacy organizations in Virginia, you can refer to VFN's publication, "The Power and Potential of Policy and Advocacy," which we released earlier this fall.
Stay tuned for a second VFN legislative briefing after the General Assembly session concludes in late winter/early spring.