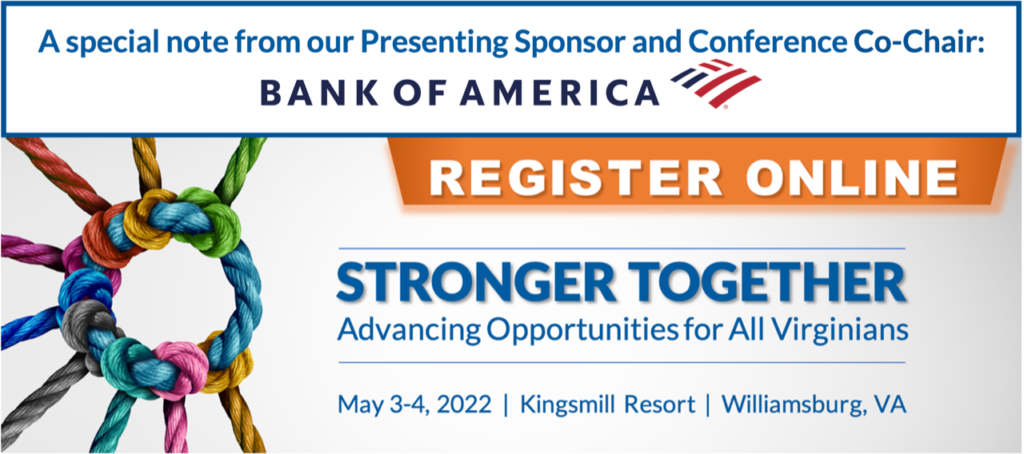 Dear friends,
On May 3-4, the Virginia Funders Network will host its inaugural conference in beautiful Williamsburg, Virginia. On behalf of my fellow conference Co-chairs and Planning Committee members, I invite you to join us for this inspiring two-day opportunity to gather with more than 150 of our fellow Virginia funders for in-person learning, networking, and community-building.
Bank of America is proud to be the presenting sponsor of this conference. We are dedicated to helping VFN advance its mission of building a connected, collaborative philanthropic community that advances opportunities for all Virginians. As our conference theme states, we're stronger when we work together.
Throughout the two-day conference agenda, in addition to inspiring workshops, informative breakouts, and plenty of networking opportunities, we'll be hearing about the Commonwealth's shifting demographics and exploring how those shifts impact philanthropy's work. We'll discuss how the field of philanthropy can work together and across sectors to advance economic and social mobility for all Virginians. And, we'll be envisioning the future of Virginia's philanthropic community, including what we want to achieve together over the next few years.
If you haven't already, be sure to register to attend the conference, and please consider sponsoring and supporting VFN's ability to host this important inaugural gathering.
Hope to see you May 3-4!

Erin Hogan
Co-chair, VFN Conference
Managing Director & Philanthropic Market Executive
Bank of America